Bed Sore Lawyer
Nursing Home Abuse Attorneys in Philadelphia – Pennsylvania – Harrisburg – Scranton – Pittsburgh – Erie – New Jersey
Bed sores (pressure sores) are common in nursing homes. If you have a loved one residing in a long-term care facility, the unfortunate reality is that she is at serious risk of suffering from a bedsore due to neglect. Fortunately, with appropriate care, these terrible wounds are often avoidable. But, if the nursing home and its staff fail to properly care for your relative, she can experience one of these painful and potentially deadly ulcers. When our family members live in nursing homes, it is because they need the closely monitored care such residences can provide. Our vulnerable loved ones have a right to receive the proper care we expect. If a nursing home is negligent and your family member suffers from a bedsore as a result, the home may be financially liable for the pain, suffering and damage.
Our Philadelphia bedsore attorneys have successfully held nursing homes liable for their failure to properly care for our clients' loved ones. If your family member developed a pressure sore due to the negligent conduct of a nursing home, our New Jersey and Pennsylvania lawyers may be able to help you seek justice. Contact us today for a free evaluation of your case.
Why do Bed Sores Happen?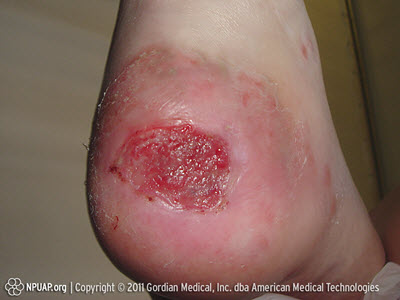 When someone who cannot move well is left in the same position for long periods, wounds can develop. This is because blood flow is disrupted due to the pressure on a specific area of the body. Loss of proper blood flow is what causes the wounds to develop. Pressure sores can occur on any part of the body, but they most frequently occur on bony areas such as:
Buttocks
Elbows
Hips
Heels
Lower back
Shoulder blades
Those who are in wheelchairs or are bedridden and unable to move, are much more likely to suffer from pressure ulcers. In addition, if your loved one has a disease which impacts blood flow, such as diabetes, suffers from fragile skin (which is common amongst the elderly) or has urinary or bowel incontinence, she is more likely to develop an ulcer on her body.
Bed sores occur in stages. If a stage one sore is quickly diagnosed and treated, it can be prevented from becoming more serious. But, if a nursing home is negligent, it is easy for one of these ulcers to become a deep and dangerous wound.
Stages of Pressure Sores
As noted, pressure sores occur in stages. These stages address the increasingly serious and dangerous nature of the wounds as infection becomes more likely and treatment becomes more difficult and involved.
Stage one. Redness over a localized area with intact skin. On patients with darker skin, the sore may be difficult to see. Often the area is painful and has a different temperature from surrounding areas.
Stage two. A shallow, open area. Sometimes shows as an intact or open blister.
Stage three. "Full thickness tissue loss." Fat may be visible, "but bone, tendon or muscle are not exposed…[m]ay include undermining and tunneling."
Stage four. This is the most serious stage.  In addition to "[f]ull thickness tissue loss," the bones, tendons or muscles will be exposed. Tunnelling will be apparent. Stage four wounds may be deadly.
 Prevention
Residents of nursing homes and other long-term care facilities must be continuously assesses for an increased risk of ulcers. Whenever there is an increased risk, nursing homes must act quickly to prevent wounds from occurring in the first place. This can include:
Use of special beds to decrease pressure on the body
Placing the patient on a turning and positioning schedule
Making certain the resident is clean: feces and moisture increases the likelihood of sores
Proper nutrition and hydration to protect the skin and keep the patient's immune system working as well as possible
Frequent assessment for risk of sores
Immediate care if a sore begins to develop
Contact Our Nursing Home Abuse Department for Help
At Lowenthal & Abrams, our nursing home abuse team represent victims of negligence throughout Pennsylvania and New Jersey. Contact us today. Tell us what happened to your loved one and we will give you an honest opinion of whether you have a case. If you decide to retain us, we will fight on your side and on your loved one's behalf, to get justice against those who failed to give her proper care.